How Navy SEAL Strategies Supports Successful Business Teams
Managing the modern workplace is more fast-paced and diverse than ever before, with businesses striving to innovate and improve productivity at breakneck speeds. Time-starved managers are working towards the next groundbreaking idea, product, or service to stay ahead of the competition while boosting employee morale and productivity. Today's innovation economy requires a culture where workers aren't afraid to try new approaches, where failing fast is respected, and where teammates help each other to get back up and try again.
Business books, management consultants, and stories from business titans can only teach so much about leadership and teamwork. We enjoy reading those stories too, but they don't stick because they are not our stories. You can read every book, take every class, and listen to every trending Ted Talk on leadership, and while you'll be SMART on leadership, you still won't really know HOW to lead. Real leadership isn't about simply being smart. It's about making connections. Not networking connections but connecting with the people on your team. The people that work for, with, and above you. A company's culture is the cornerstone of an organization's potential, so a leader who can connect, develop, and inspire a healthy culture is a powerful instrument toward a business's success.
To create a high-performing and healthy workplace culture, leaders must know how to balance their teams' needs while empowering and inspiring their workforce. Instead of trying to control, they collaborate with their colleagues to exceed the demands of the industry. It's about connecting with others and inspiring innovation and excitement. Instead of momentarily motivating people through a short-lived external push, inspire them, and generate an internal drive that breeds passion and commitment. Become a force-multiplier with your greatest asset…People. It should come as no surprise that this is precisely what we mastered in the SEAL Teams: handson, high-pressure implementation of team performance principles with a calm, steady hand and a clear mind driven by the culture. This performance standard is required from the first day a student starts Basic Underwater Demolition/SEAL (BUD/S) training. You might be there as an individual, but you can't graduate without your teammate's support. Those who are fortunate enough to graduate and work in this profession earn the right to wear the coveted SEAL Trident.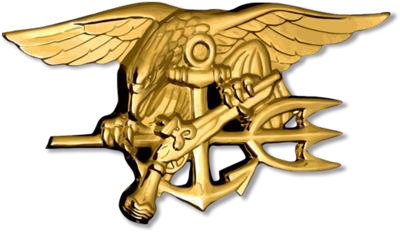 The Trident – The Standard
The Trident is the gold emblem worn by SEALs. Typically, in the military, officers wear gold devices, and enlisted wear silver. As a declaration of unity and loyalty the Trident is the only Warfare pin in the military shared by both the officers and the enlisted. It's a symbol of their commitment to excellence and each other and represents a lifestyle rather than an accomplishment. The Trident is composed of four objects: an anchor, eagle, trident, and pistol. It symbolizes their heritage in the Navy, and the areas they operate-Sea, Air, and Land. The anchor signifies the Navy as the branch of service. The eagle symbolizes the air and holds an item in each talon. In the right talon is the trident, which symbolizes Neptune, the God of the sea. In the left talon is a cocked flintlock pistol, which symbolizes land warfare and a state of constant readiness. Furthermore, the Eagle on the Trident is unique because it is the only spread Eagle emblem in the military with its head down instead of perched up high and proud. This is to symbolize humility and again, a constant state of readiness always on the lookout.
SEALs embody a mentality of "Earn your Trident Every Day." Earning it every day is about resetting and raising the bar daily. It's about not becoming complacent and thinking what we did yesterday is good enough for tomorrow. It's about buy-in and commitment, pushing the status quo and putting the mission and the team above yourself. These are some of the tenets of the most high-performing teams in the world who endure during high-pressured situations. But for those who have never experienced these high-pressured situations, it may be challenging to understand how "unconventional strategies" can influence a business unit's growth and success. The answer is simple: you change the way your company approaches leadership.
The Battlefield or the Marketplace
While stories from the battlefield can temporarily entertain, excite, and motivate, they cannot prepare a team to perform or build a lasting leader. As retired Navy SEAL Chiefs, Acumen Performance Group consists of accomplished and combat decorated leaders. They have developed, trained, and inspired high-functioning combat teams that have successfully executed special operations missions worldwide in support of National objectives. Leadership and teamwork are learned in the preparation and embodied in the idea that "We don't practice until we get it right. We practice until we don't get it wrong" (whether on the battlefield or in the marketplace). We formed Acumen Performance Group because we enjoy sharing our experiences and bringing value to our client's organizations with the crisis-tested lessons we acquired during our careers as Special Operations leaders and followers. We are inspired to bridge the gap between operational excellence on the battlefield to mission success in the boardroom.
There are apparent unique differences between military leadership methods and leadership within the workplace, such as extensive training in austere environments, extended overseas deployments, and combat. Unfortunately, the conventional military model is based on being effective, but they are not typically efficient. Like a business, SEAL operations need to be both effective and efficient. The SEAL community is involved in more than 90% of the objectives occurring around the globe but considering there are only two SEAL Teams at any time deployed, we only make up .03% of the military. We have mastered getting more with less.
Our success stems from our reliance on smaller, agile teams. It becomes critical to empower individuals and reinforce the idea of "leadership at every level"-whether on the battlefield or the sales floor. Then, when the time comes, each team member is trusted and mutually supported – prepared to act toward a shared purpose. To win! While the boardroom is not combat, the fundamentals transition nicely, and APG has designed our curriculum so our clients can walk away with a new set of frameworks and strategies to assist current leaders with modern-day leadership challenges.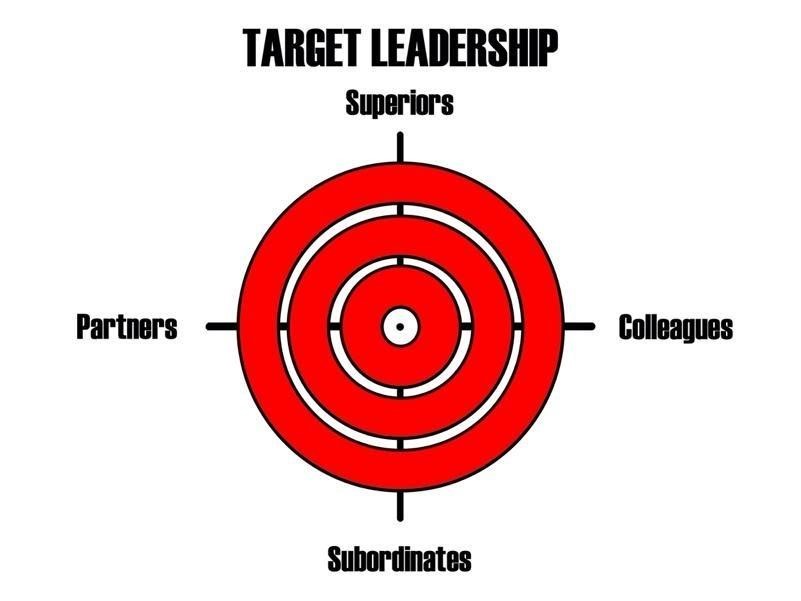 Target Leadership – Leadership at Every Level
APG's flagship leadership program, Target Leadership, applies both vertical and horizontal integration to reflect the workplace's actual operations and anticipate the real-life conflicts a business team might encounter. Instead of focusing on developing a single individual as "the leader," Target Leadership provides a framework for seeing leadership as a process that involves every member of a team or organization. To bridge the gap between operational excellence in the SEAL Teams to the business world, APG takes the target leadership concept a step further by helping companies create and internalize an organizational culture where employees at every level take responsibility for their role and performance within the organization.
Target leadership is sculpted after the reticle of a scope (see below). It reinforces the "Leadership at every level" model. Regardless of one's position, it applies. Following the archetypal ladder, the superiors are at the top of the ladder, while the subordinates are at the bottom. This ladder signifies control, but this is not the control of people, but the control of information.
The next ladder is horizontal in design and flows between colleagues and peers. This signifies collaboration. The new market is innovation, and teams that can collaborate or break into smaller teams with the organization's confidence boast an advantage over their competition. Finally, the center dot is you. This is about self-care and being emotionally mature. Being emotionally centered is critical when leading and managing others. While the relationship between leaders and subordinates is generally the focus of most leadership theories, target leadership considers how other workplace dynamics might impact a leader's ability to create a plan, assemble and empower the team, and execute the vision. Starting from the outer ring of the reticle representing the Strategic roles of a leader, to the Operational and Tactical roles in the next two rings, the process is a holistic approach to leading. It permits leaders to handle disturbances outside the organization, or friendly fire from within the ranks, making it a more responsive and practical model for any organization.
The Alpha Cycle Process
There's much talk about being a good leader, but you have to get your hands dirty and lead to start the learning process. Along with a framework for conceptualizing what leadership involves at your organization, teams that go through the Target Leadership program make teamwork and leadership actionable with our Alpha Cycle process:
Awareness (Self, Others & Situational): As a leader, you must first be self-aware before you can affect others. Self-awareness is the gateway to full potential. It allows you to see yourself clearly, weigh decisions, maximize strengths, and minimize weaknesses. Simultaneously, it also opens your ability to understand others and to build relationships. When you are aware of others, you recognize the contributions, talents, and needs of the rest of your team. Finally, your awareness grows to take in the world around you clearly. It enables you to recognize how to best respond to a specific problem, challenge, or opportunity and how your choices might impact the organization as a whole.
Adaptability: Equipped with awareness, a leader creates clarity. Clarity empowers leaders to execute with confidence and simplify their decision-making process. Leadership is not about your needs, but how to meet people and situations where they need to be met. An effective leader adjusts their approach to meet individual team members' needs to guide them toward success. For example, one employee might require extensive direction, while another in the same position needs limited support.
Action: This is about execution. Once a leader decides on the best course of action and has strategically prepared their mind, mitigated risks, developed the environment, and their personnel, they act (or enable their personnel to act) upon the final decision. Without analyzing the various factors involved, and properly planning and preparing, the execution is a gamble. However, when a leader properly plans and prepares by weighing the options, identifying and mitigating the risks, and developing the best courses of action, the execution fares a better chance for success because it is calculated.
Assessment: Assessment occurs throughout the cycle. This is about being a reflective leader who values improvement by taking a critical evaluation of the ongoing indicators as well as the outcomes. Assessing allows us to investigate the efficiency and effectiveness of progress throughout the process and signals a need to adapt.
Taking the Next Step in Creating a Leading Team
Based on our experience in working with high-performing teams, training, exercise, repetition, and reward are required to develop agile leaders who take personal responsibility, are invested in the team's success, and aren't intimidated by last-minute complications or uncertainty. Here at Acumen Performance Group, we have fine-tuned these methods and are continuing to seek out new partners who are eager to raise the bar. To receive your unique and tailor-made program that will impact your entire organization, contact us at www.APG.team. We are excited to share our stories and experiences with you, and to work with your team to develop leaders equipped to drive a healthy organization. Especially during these times of uncertainty when businesses need it the most! At Acumen Performance Group, our passion is to discover what better looks like to you, and then to build a relationship and collaborate ideas in bringing those visions to life.